Creating a Profile
Creating a profile is optional; however, uploading a picture is a great way to greet your students. You could use a picture of yourself or a cartoon image.
To add a profile image:
Select Profile from the Personal Menu
Click Change Picture 
Click Choose File and locate the image you want to add.
Click Open. Click Upload.
Scroll to the bottom of the page and click Save and Close.
Note: Any information that you add to your profile will be visible to students.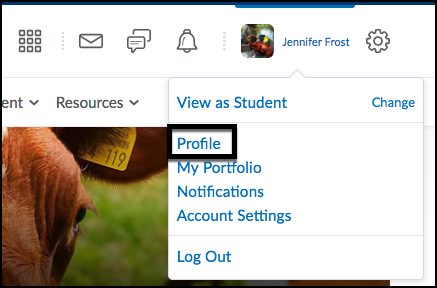 Setting Notification Preferences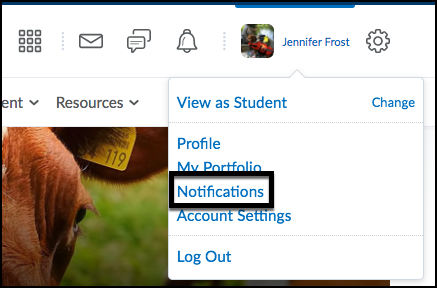 Each user in SLATE can set Notifications based on their personal preferences for all their courses to stay updated. This tool enables you to receive only alerts about course activity.  It also allows you to subscribe to a summary of activity for each course.
The Pulse app is the recommended method of receiving notifications as the delivery of notifications.
Setting Account Preferences
Use the account settings tools to customize and manage your personal preferences including your personal preferences, online status, accessibility options and discussion settings.  You can also forward your emails.
To access the Account Settings, select Account Settings from the personal menu.

The

Account Settings Tab

allows you to adjust default settings such as font, dialogue, HTML Editor, Video, Local, Language and Time Zone settings.  It also allows you to forward your email and adjust your online setting which is set to Appear Online by default.

The

Discussion Tab

allows you to adjust settings related to the way the discussion tool displays forums and topics by default.

The

Email Tab

allows you to adjust settings including tracking activity for sent messages, creating an email signature to append to sent emails and forwarding emails.
Forwarding your Email:
By default, SLATE uses internal messaging.  You have an email address within the system and students send emails directly to the inbox in SLATE.  If you wish to forward your emails to another email address:
Check the box beside Forward incoming messages to an alternate account. 
Enter the email address you want to forward your emails to.
Select what you want the system to do with emails in your SLATE inbox.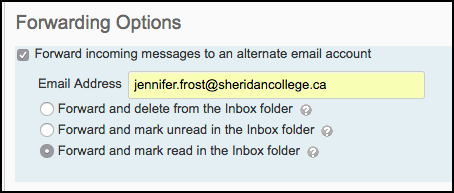 Please Note: 
If you forward your emails to a personal email address, please note that when you reply to emails that address will be exposed to the recipient.
username@shernet.sheridancollege.ca is a configuration reference for Office 365. It is not part of a valid email address to add as your forwarding email address in SLATE and can create undeliverable issues. Please use a valid email address such as your official @sheridancollege.ca email for SLATE email forwarding.
If you choose to forward your SLATE email to your @sheridancollege.ca email, please ensure that your Sheridan email is not forwarding back into SLATE. If it is, you will run into an error and not be able to use your email effectively.