Getting Students Started with Assignments

Assignment folders appear in the Assignments tool for each assignment that is created in the course.
To access an Assignment Folder:

Drop the arrow down beside Assessment on the nav bar
Click Assignments
Select the Assignments folder you want to upload a submission to.
---
Note: Please check the End Date on your folder. The End Date closes access to the folder.
---
Submitting to an Assignments Folder:
Once you are on the Submit Files page you will see important information such as the start date, due date, instructions and any associated rubrics for the assignment.
To submit a file from your computer: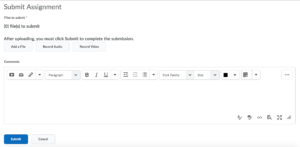 Under the Submit Files heading click Add a File.
A popup window will appear. Select My Computer on the left.
Drag and Drop the file or Click Upload.
Locate the file on your computer and click Open.
Click Add.
To submit an audio recording:
Under the Submit Files heading click Record Audio.
A popup window will appear. In the Audio Flash Player Settings box on the right check the box beside Allow.
Click the Record Icon (red circle).
To play back your recording select the play icon. You can clear the recorded and rerecord using the clear button.
When you are satisfied with your recording click Add.
Enter any comments in the comments box.
Click Submit.
Confirmation of Submission:
Please make sure you receive your submission of confirmation receipt in your SLATE email
Click Done.