Update to Privacy Statement for students:
Please be advised that your class may be recorded for teaching and learning purposes for use by other students. By turning on your camera at any time, you consent to record your image or likeness. Should you not wish to have your image or likeness captured, it is recommended that you keep your camera switched off. You may be required to turn on your camera during some course activities.
Please Note:
Virtual Classroom Troubleshooting
Before using the Virtual Classroom, we strongly recommend you use the latest Mozilla Firefox or Google Chrome versions for an optimal experience in SLATE; Apple Safari is not supported.  Ensure your browser allows third-party cookies, allows pop-ups, and clear your browser cache, if necessary.
Virtual Classroom
Use for live discussions, office hours, video-based training, and more. Schedule, deliver and record live sessions right from within SLATE. Embed sessions directly into courses alongside other materials.
How Can I Use the Virtual Classroom?
Features Include:
Integrated voice and video conferencing.
Up to 10 simultaneous webcams.
Whiteboard.
break-out rooms
Document and Desktop Sharing.
Live Chat.
The moderator can enter the classroom 10 minutes early.
Up to 150 participants.
Maximum Meeting Duration: 240 minutes.
Session recording availability: Unlimited.
Where is the Virtual Classroom located in SLATE?
To find the Virtual Classroom. Within your class section, Click Communication > Virtual Classroom.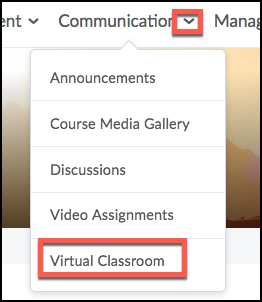 You can also find the tool by clicking Existing Activities within the content.
Accessing the Virtual Classroom
When you log in to the Virtual Classroom for the first time, you will get a warning to continue. Click the radio button if you prefer not to get this message the next time you log in. Click Continue when complete.
Once logged in, the Class Meetings dashboard shows previously scheduled and recorded meetings. You are also able to schedule meetings directly on the dashboard
Get Started and Set-Up
Join and Participate
Present and Communicate
Best Practices
Troubleshooting and Settings