Respondus Monitor (RM) is a fully automated proctoring solution that enables students to take online exams and confirm students' identity through the use of a webcam which records exam sessions. Powerful analytics are used to detect suspicious behaviors during an exam session and a report, indicating overall risk level, is sent to the faculty member. Learn more about this tool at this website Respondus Monitor. Watch this video introduction to Respondus Monitor 
The new RM tool will supplement the Respondus Lock-Down Browser® (LDB) already enabled in SLATE, which locks down the testing environment during online quizzes/exams when activated.  Find information on LDB at this website  Respondus Lockdown Browser.  Webinars are offered online directly from Respondus. The sessions provide a detailed demonstration of both the Lockdown Browser and Monitor. 
Start Using Respondus Monitor
Download the Respondus Monitor Quickstart Guide for Brightspace/SLATE and view the instructions for Rapid Rollout for Instructors. 
To access Respondus Monitor in SLATE. Go to Assessments > Quizzes
Click the Lockdown Browser Tab

You will see the Respondus Monitor in the far right-hand column.

To enable the Monitor. Click the Dropdown arrow next to the quiz name and choose Settings
Ensure that you Require Respondus Lockdown Browser
Then you will see all the Monitor Options and you can start the StartUp Sequence.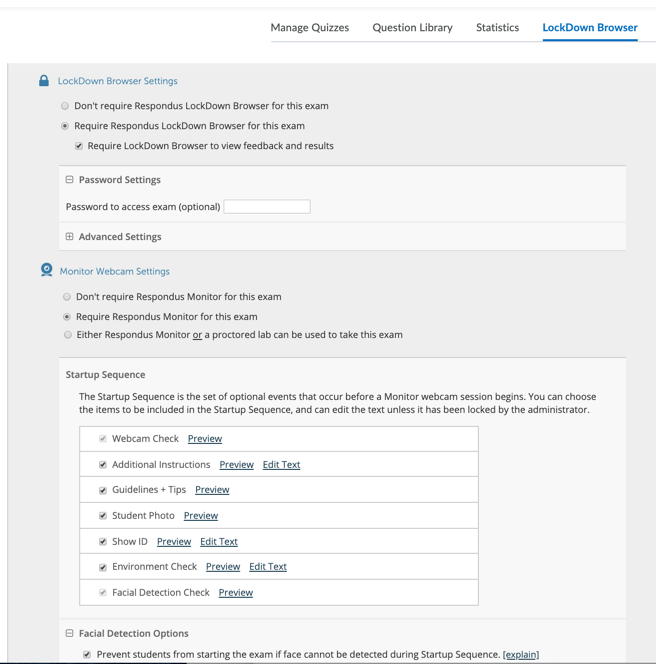 For 
Instructors
Training/Getting Started
Faculty Guide created by Spark
Instructor Training: LockDown Browser & Respondus Monitor
These 45-minute training are the best way to learn how to use Respondus Monitor for online proctoring. Each session follows an extended Q&A period where questions are answered live.
Create a Practice Exam
– Have students take a practice exam with Respondus Monitor to ensure their computer, webcam, and Internet work properly. Allow students more than one attempt on the quiz so they can try the practice exam whenever their device or networking environment changes.
Support
For technical support for Respondus Monitor, please see Respondus Technical Support. 
For Students
Getting Started: Student Quick Start Guide. 
Video: Introduction to Respondus LockDown Browser for Students.
24/7 Live Chat: Students can access built-in troubleshooting and live chat from within Respondus Monitor if they encounter a technical problem.
System Requirements (Student): 
Windows: 10, 8, 7

 

Mac: OS X 10.10 or higher

 

iOS: 10.0+ (iPad only).
Web camera (internal or external) & microphone

 

A broadband internet connection

 

If you are running into issues accessing the Respondus tool. Try rebooting your computer, then accessing the quiz again. If that does not solve the issue try the troubleshooting and live chat link listed above.