The Copy Content tool allows you to copy content between any two courses in SLATE.
If you have copied the information from the course you chose previously, you will get a warning.  Copy this again?  The warning will only see that you copied the course before, it will not know specifically what you copied,  use it as a warning to double-check.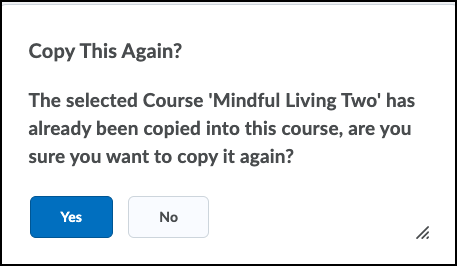 Access the Copy Components Tool
Inside the course that you want to copy contents into, select Course Admin.
From the Course Administration area, select Import/Export/Copy Components

Under the Copy Components from Another Org Unit Heading, select Search for Offering 
A popup window will appear.  In the Search For field enter the search terms for the course you want to copy from.
Click the radio button next to the course you want to add and click Add Selected.
Copy All or Select Individual Components:
You can choose to copy all components or, select individual components. If you select all components the system will create an identical copy into the course.  If you select Choose individual components then only the content under those tools will copy.
Copying All Components:
If you want to create a replica of the course you are copying from, select Copy All Components

.
A new screen will appear and you will see a status bar indicating the copy is in progress, then a green check will appear when complete.
 Select Individual Select Components:
If you want to select individual components click Select Components 
A new screen will appear asking you to Choose the Components to Copy.
Check the boxes beside the content you want to copy.  You can choose to copy all items for a specific tool or individual items. 
Click Continue. The system will begin to copy the contents between courses.
The next screen will ask you to confirm your selection.  Click  Finish. 
Video: Copying Select Components