SLATE Self Service provides users with greater flexibility to manage their learning environment.  It is a set of services accessed by clicking on the Self Service logo on the SLATE landing page.
Current capabilities include the ability to add a demo student to workbenches and course offerings, create and manage development workbenches, activate and deactivate course offerings and create virtual communities.
Features of Self Service:

Currently, SLATE provides functionality to role switch to a student role in order to test the course offering from the student perspective. However, this feature does not allow you to test grade entries or complete quizzes.
By adding a Demo Student to your development workbench or course offering, you can now impersonate the demo student and test these features.
Manage Course Offerings and Add Workbenches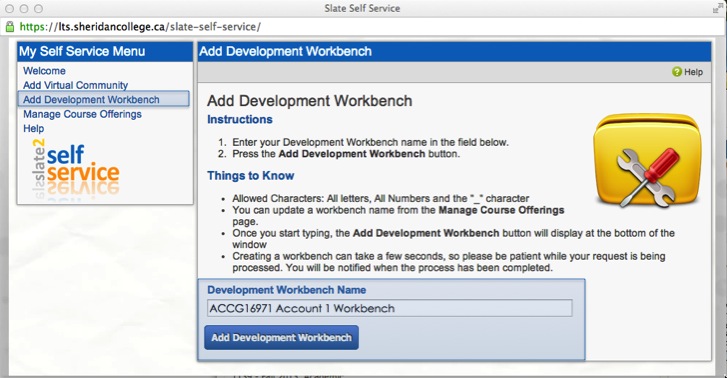 This allows you to see a list of all your course offerings (including workbenches) within the learning
environment. From here you will be able to:
Add, delete or renew development workbenches
Rename development workbenches
Activate / Deactivate Courses

Recognizing the need for instructors to manage the availability and visibility of individual course offerings in the learning environment, SLATE Self Service now offers the ability to activate/deactivate courses.
This allows instructors to activate and deactivate courses at their discretion.  This capability answers the need to:
Deactivate unused Lab Components
Deactivate prior semester offerings
Note: Deactivated courses can also be reactivated without any loss of information.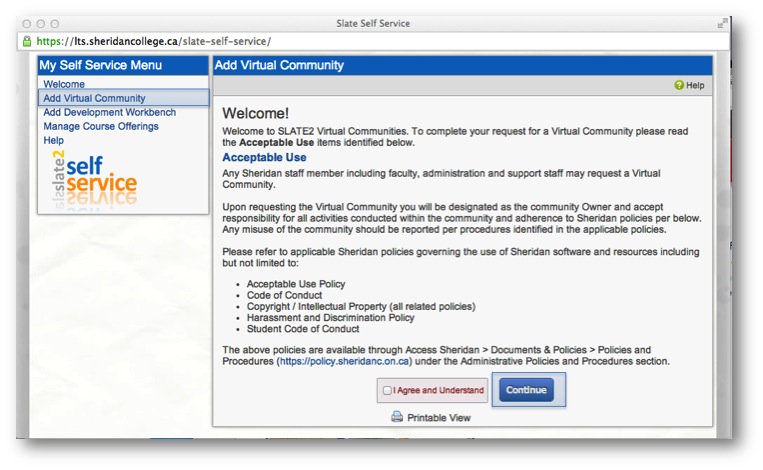 Virtual Communities are places in SLATE that use the SLATE course structure to allow groups of people with similar interests and concerns to collaborate. All of the tools available in SLATE courses are available in a Virtual Community.
Similar to Development Workbenches this introduces the ability to create and manage Virtual Communities on the fly in real time.  Please find additional details about Virtual Communities in Self Service under the Add Virtual Community link and Help menu.