In addition adding basic content to widgets through the HTML Editor you can also embed feeds from various social media sites. This page provides information on embedding a Pinterest Board in your course.  There are various other social platforms that provide embed code you can use in widgets.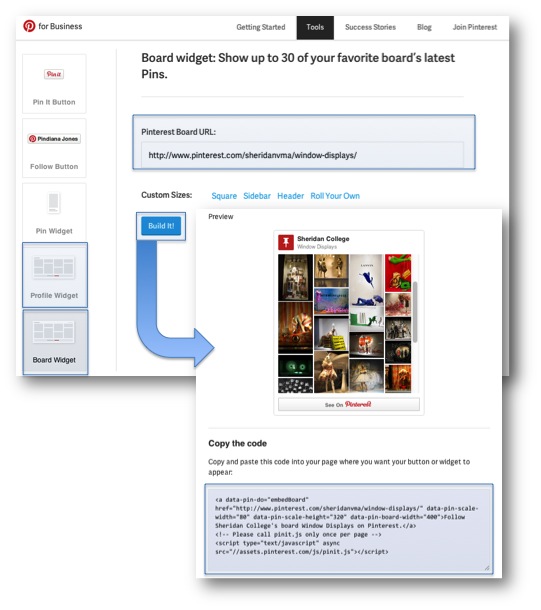 Step One: Create a Widget on Pinterest
Go to the Pinterest Widget Builder page.

To create a Profile Widget select Profile Widget from the left.
To create a Board Widget select Board Widget from the left.
Enter the URL for the profile or board in the Pinterest URL field.
Select a Custom Size for the widget.
Note: If you are embedding the widget on the side of your homepage the square size works best.  If you are embedding the widget across the top of your course homepage select header.
Click Build It! 
A preview of the widget will appear under the Preview button.
Below the preview is the embed code.  Copy this code.
Step Two: Embed the Feed in your Custom Widget:
Create a new widget by following the instructions on the Creating Custom Widgets page.
On the Edit Widget page click on the Content tab.
Click on the </> icon in the bottom-right corner of the HTML Editor.
Paste the embed code that you copied from Pinterest in the HTML Source Editor window.
Click Save. 
Click Save and Close on the Edit Widget page.