Click Course Admin.
From the Course Administration area select Homepages. 
The SLATE Course Home is the default homepage and is comprised of four widgets: Announcements, Content Browser, Calendar, Course Overview, and Grade Exporter.  You can copy this page and use it is a starting place or, click on Create Homepage.
If you copied the homepage click on it to begin editing.
Properties:
Enter a name for the Homepage in the Name field.
Provide a description of the homepage if required.
Choose a Header:
By default the header includes the course id, course name, semester code and class number:
You can remove the header by unchecking the box beside Include homepage header.
You can include a custom header by entering custom text into the header box. You can also use replacement strings in your header.  More information about replacement strings is available here. 
Choose a Layout: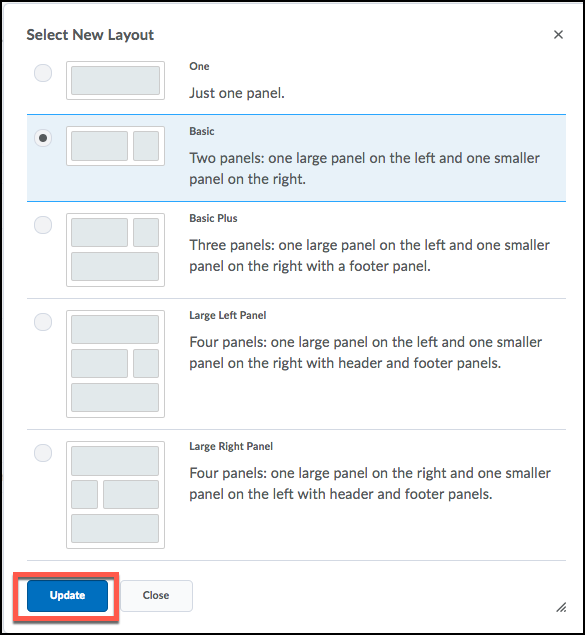 By default, the layout for homepages is the Basic Layout consisting of one large panel on the left and a smaller panel on the right.
To change the layout click Change Layout 
Select a new layout and click Update. 
Add Widgets:
Click the Add Widgets button to add widgets to the different panels on your homepage.
Select the widgets you want to add to the panel and click Add. 
Continue adding widgets to the different panels.
For information on creating custom, widgets click here.
Reordering Widgets
Reorder widgets by clicking on them and dragging the widget to the desired area.  A grey bar will indicate where the widget will be placed.
When you are finished click Save and Close. 
Note: Make sure you change the active homepage from the default homepage to the custom homepage. Instructions can be found here.