Drag and Drop files from your computer to create topics:
For modules without existing content:
Click Content
From the Table of Contents select the module you want to add files to.
Locate the file on your computer and click to select the file. Hold down your mouse and drag the file to the appropriate area (Drag a file here to add to the overview). Let go with your mouse to drop the file into the module.

For modules with existing content:

Drag the content from your computer to the module.  A grey line will indicate where the content topic will reside.
Add files directly to Table of Contents:

You can drag and drop content directly into the Table of Contents as well.
Drag and Drop modules and topics to reorder content: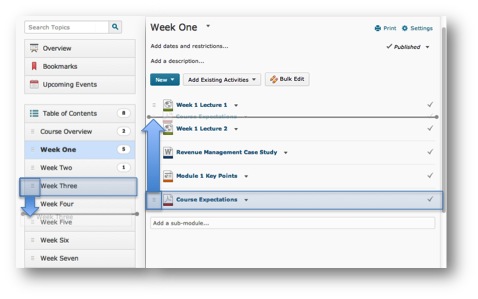 Reorder modules and topics by clicking on the icon and dragging the module or topic to the desired area.  A grey bar will indicate where the content will be placed.