The Content Tool is used to organize course materials.  Use the content tool to create, edit, organize and delete content modules and topics.
To access the Content tool click Content on the course navbar.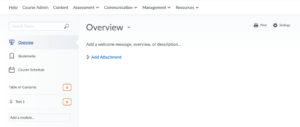 The Content Tool is broken into four main sections:
Overview:   An overview of the course that usually includes both a course orientation and expectations. The overview is the first area student's see when they click on Content. You can create a Course Overview by selecting Course Overview and dragging and dropping a file onto the overview page.
Bookmarks:  Lists the topics you bookmark. Click the  Add Bookmark icon while viewing a topic to add it to your bookmarks list. The number beside the Bookmarks link indicates how many bookmarks you added within the course.
Course Schedule:  Lists course material due dates, start dates, end dates, and other course events for the next seven days. Dates listed on this page are not exclusive to Content topics; upcoming events include all events within the course from the Calendar tool. The number beside the Upcoming Events link indicates how many upcoming events you have. New: Students are now able to view an actionable list of overdue assignments in the Overdue tab in the Course Schedule. Course activities that have a due date appear automatically in the Overdue List as soon as the date passes. 
Table of Contents:  Browse course materials and assignments here. The number beside a module listed in the Table of Contents panel indicates how many topics within the module you need to complete. The number decreases as you work through course materials.