Overview is the first page students view when they click on the Content tool.  Here you can provide a Course Orientation and Expectations.
Course Orientation
In addition to being ready to learn online, students need orientation to and support in the online environment.
This can mimic the online environment or it can be face-to-face (F2F). Direct students to where they can receive help with navigating the learning management system (LMS). Additionally, direct students to support across campus such as tutoring, mentoring, advising, counselling, the library, and the service desk (Harrell, 2008). Monitor student use, especially at the start of the course; reach out to those students who are not engaging with the course.
Course Expectations
Provide students with a course overview and introduction. This includes instructions on how to access and navigate the course and any external tools. For example, send students a welcome email with a link, tutorial, or demonstration on how to use course tools and get started. In addition to the course tools, provide links to learner support services like the Library, Tutoring, Advising, Accessibility Services, Counselling, Career Centre, Health Centre, and Athletic Centre. Include a course outline, syllabus, rubrics or rating scales, assessment criteria, and learning objectives as well as expectations for assignments and participation. Using graphic organizers and summary charts help students connect the unit lessons to the big picture curriculum (Jensen, 2005).  Establish online classroom etiquette as well as rights and responsibilities before the first class.
To add a file to the Overview: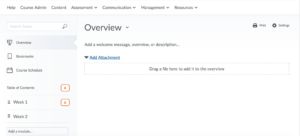 Click Content. 
Select Overview from the menu on the left.  
Click Add Attachment. 
Drag the file from your computer to the area labeled, Drag a File to Add it to the Overview
---
References
Harrell, I.L. (2008). Increasing the success of online students. Inquiry, 13(1), p.36-44.
Jensen, E. (2005). Teaching with the brain in mind. Alexandria, VA: Association for Supervision in Curriculum Development.
---