When you are setting up a group Assignment folder you have two choices, you can either set the group assignment folder up directly in the groups tool. Or you can create the folder within the Assignment tool. Below are the directions for either method.
Group Assignment – Within the Groups Tool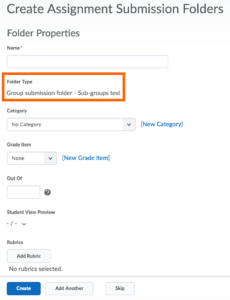 Folder Properties
On the create Assignment folders page enter a name for the group folder
If the folder is associated with a Grade Item, select the grade item from the drop-down list.
Under the Out Of heading enter a points value the submission will be graded out of.
Provide any instructions in the instructions area.
Submission Options
Select how many files are allowed per submission: unlimited or one file per submission.
If you are allowing for unlimited submissions choose to either keep all submissions (they will be time / date stamped) or overwrite submissions.
If you are allowing for only one file per submission select only one submission allowed.
Click Create or Add Another if you want to add another folder.
This will create a group Assignment folder.  You can access the folder by clicking Assignments on the course navbar.
Group Assignment – Within the Assignment Tool
Click New Assignment
Name the folder
Choose if you want to use Originality Checking (Turnitin)
Under Folder Type, Choose Group Submission Folder, Select the Group Category that you created in the Groups Tool
Under grade item, select an item, if the grade book is associated with the folder and how many points the assignment is out of and if you want to associate a rubric with the assignment.
Save and Close