You will only see this page if you chose  'Set up Discussion Areas' on the Create New Category page.
Under the forum heading select a forum to create the group topics under (if you have already created discussion forums), or select New Forum. 
In the popup window provide a title for your New Forum.
Click Save. 
The drop-down menu under forums will populate with the new forum name.
Click Create and Next.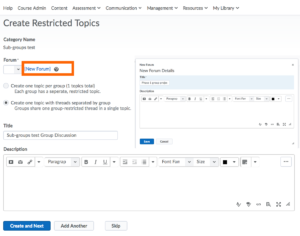 This creates a discussion topic for each group.  You can view the discussion topics by clicking Discussions on the course navbar: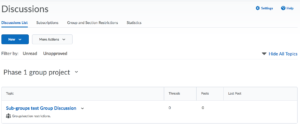 ---
Note: Students will only see the discussion topic associated with their group.
---
If you want to create discussion forums at a later time, you just need to simply edit the Group Category and scroll down until you see Create Group Discussions.