You can use discussion forums to organize your discussion topics into categories.  Within your course can have multiple forums and topics.
---
You must create at least one forum before you can create a topic since all topics must belong to a forum.
Click Communication>Discussions on the course navbar.
On the discussion list page, from the New drop-down select New Forum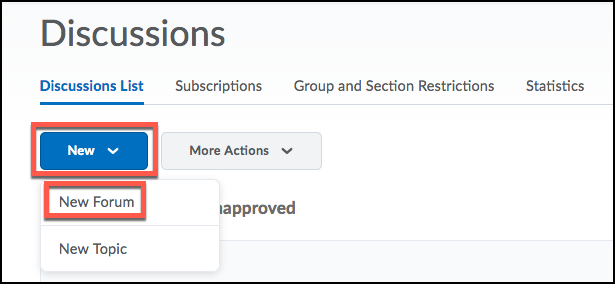 New Forum Details:
In the title field provide a title for your forum.
Provide a description for the forum. (Optional)
If you want to create a topic on the forum with the same name, select Create a new topic with the same title. 
Check the boxes if you want to allow for anonymous messages or if you want to approve messages before they are displayed.
Availability:
Under the availability heading, you can choose to allow the forum to always be visible, hide the forum or allow the forum to be visible for a specific date range.
If the forum is visible for a specific date range, provide a start date and end date.
Locking Options:
Under the locking options heading, select lock forum to lock the forum when it is created.
The forum will remain locked until unlock forum is selected.
Enter start date and end date during which the forum will be unlocked.
Click Save and Close
After you have created the forum you are ready to create the Discussion Topics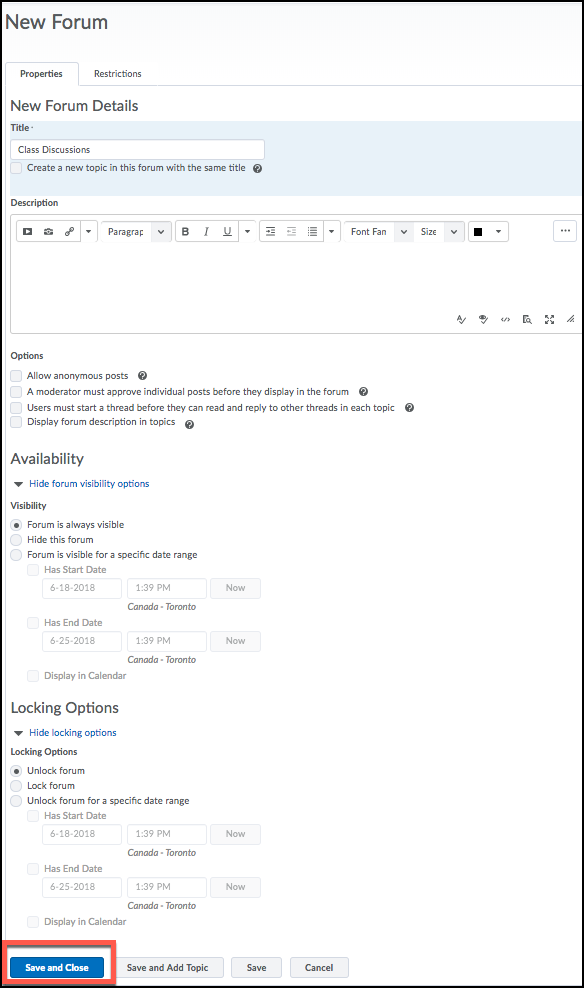 ---
Students cannot compose posts on forums.  Students can only post and reply to topics.
---