Adding Questions
You can add questions directly into the Question Library and then bring them into the quiz through the Add/Edit Questions button.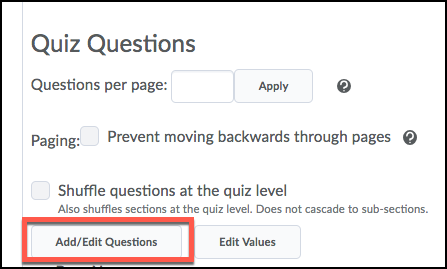 Question Library
The Question Library is a central repository that stores and archives questions which can be shared and reused by all quizzes within a course. You can create multiple collections within the Question Library to organize your questions by type and topic, making it easier for you to find questions for your quizzes, surveys, and self-assessments.
You can access the Question Library:
Click Assessment > Quizzes on the course navbar and select Question Library.
When creating a quiz, click on the Add / Edit Questions button under the Quiz Questions heading.