---
Note: Prior to loading grades in PeopleSoft use the Grade Export Widget.
---
Navigate to Access Sheridan  (https://access.sheridaninstitute.ca/)
Click on Access PeopleSher SA
From the navigation on the left select Self Serve>Faculty Centre>My Schedule
Access the class section for which you would like to import the grades and click on the Grade Roster icon.
From the Grade Roster, select the Import Grades button at the bottom of the page.
Browse to find the CSV file that was exported from your SLATE course. Then select the Upload button.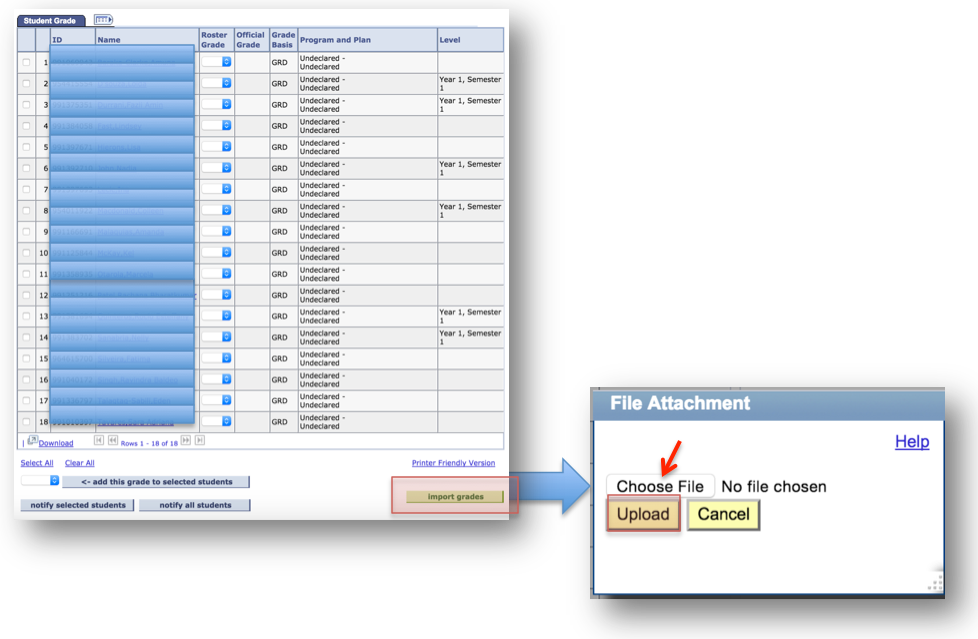 The imported percentage grade will then be displayed in the Roster Grade Column. The results of the import and the file used for the import will be displayed at the bottom of the screen. Correct any errors if need be.
Verify the 'Grades loaded Successfully' matches the number of students in the class.  If not verify the withdrawal status of missing students.
If you have added a Demo Student to your class it will be included in the SLATE export.  This error can be ignored.
Mac users may see an error indicating a student 'USER ID' not found on the Grade Roster.  This error can be ignored.
When you've completed entering and verifying all of the grades for the class, select Approved from the Approval Status drop-down menu and click the Save button. You can enter partial grades for the class and save them by clicking the Save button. This will allow you to exit this system, if you wish, and enter the rest of the grades for the class at another time.
NOTE: You can change grades up until the grade submission deadline by changing the approval status from Approved to Not Reviewed. Once the submission deadline has passed, the grades are automatically submitted and the record is locked. You will be unable to make any more changes online.
Click here to view the  Faculty Guide to PeopleSher v.9  for any additional information that you may require.