By default in Turnitin, students are only allowed to submit Turnitin approved file types and sizes.
Turnitin currently accepts the following file types for upload into an assignment:
Microsoft Word® (.doc/.docx)
OpenOffice Text (.odt)
WordPerfect®  (.wpd)
PostScript (.ps)
HTML
Hangul Word Processor file (.hwp)
Rich text format (.rtf)
Plain text (.txt)
Adobe® PDF
Microsoft PowerPoint® (.pptx, .ppt, .ppsx, and .pps)
Microsoft Excel® (.xls and .xlsx)
The file size may not exceed 40 MB. Files of larger size may be reduced in size by removal of non-text content or the instructor may be contacted to request multiple assignments to submit the document in sections.
Update Default Settings
If you want students to be able to submit any file type or size to the file that is Turnitin enabled, you will need to adjust the default settings.
Click Assessments > Assignments
Click the Dropdown arrow next to the Assignment name and choose Edit Assignment
Choose Evaluation and Feedback from the right hand menu
Click Manage Turnitin
Down at the bottom of the page click More Options Turnitin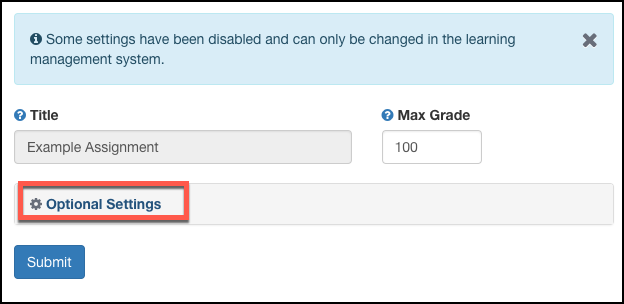 Click the box to Allow Submission of Any File Type
If you choose you can save the settings for future assignments
Click Submit
Save and Close